Do you want to take advance of your faux fur vest? Learn with us.
If you are looking that any clothes you wear to instantly look more stylish, we can help you here.
We found the solution and we want to share it with you.
Imagine walking through the streets of Dublin, wearing skinny jeans, a black blouse, a Louis Vuitton bag and high boots. 
It sounds sensational. 
But what do you think about adding a faux fur vest as a top layer and "finishing touch"?
It becomes an amazing look.
You don't take much effort to achieve an amazing result just by adding a piece to the outfit you've already chosen.
It can be the simplest outfit or the most elegant, a faux fur vest will enhance your style and elegance.
Read on and learn how to achieve amazing results with a faux-fur vest.
Faux fur vests and jackets are used in any season?
Of course.
Faux fur jackets, coats and vests can be worn in any season.
The trick is to know how to choose the vest and the moment. 
Combine the design, pattern and length of the jacket to use according to the season and according to the occasion.
For example, a long faux fur vest is perfect for the cold of winter. 
You can choose a variety of colours to look elegant during the winter season.
Now you may be wondering, can I use the same long vest in summer?
The answer is yes. I explain you.
If you have a night out in a place where the environment is cool or cold, you can wear your vest when you arrive at the site. 
Then you can remove it in the middle of the meeting and use it again at your convenience.
The secret is to use the vest at specific moments when you want to stand out and make your elegance noticeable. 
Play with it.
How to create amazing outfits using a faux-fur vest?
Consider Wearing a Sleeveless Faux Fur Jacket
Sleeveless vests and jackets are very versatile, they look great practically with everything.
You can create unlimited combinations with just one faux fur vest. 
This garment goes well with dresses, jeans, blouses, sweaters and dress pants.
Everything is left to your imagination.
If you're going for a daytime walk, a white shirt with jeans pairs well with a black or brown sleeveless vest.
In the case that the outfit is for the night, choose your favourite dress and put on a long sleeveless vest. 
The colour of the vest will depend on the colour of your dress.
For all your outfits try to play with colours. 
Always seek to create combinations that go with your personality and style.
What about long faux fur vest options?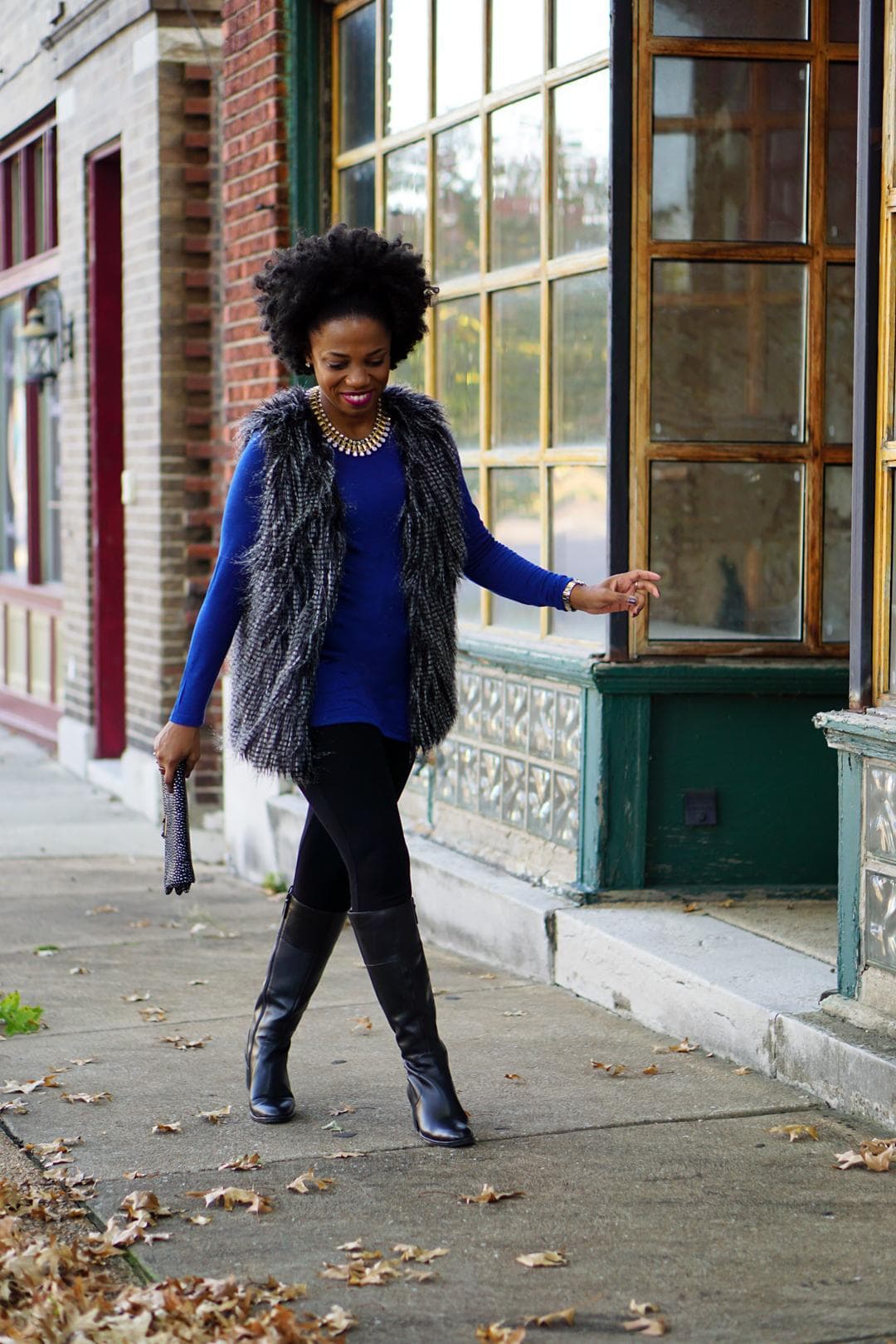 The long options in faux fur vests are one of the favourites.
They are used more than anything in the winter and autumn season. 
But they can also be used in any season.
Everything will depend on the occasion.
Long vests represent elegance and glamour. 
Normally they cover a large part of the body and therefore cover the clothing that is underneath.
Choosing a good shoe to match your long faux fur vest is essential. 
Make a difference instantly.
Imagine putting on a long vest with wide-open flat sandals. it will look terrible.
Now imagine a long vest with dress boots. it looks phenomenal.
So, a closed shoe is the most appropriate to use with a long faux fur vest. 
Combine it with the belt or bag that you are going to use.
What are the best accessories to combine with synthetic leather?
Accessories for clothing there are many. 
Every day there are more options and colours to choose from.
There are from the classic style to the most avant-garde. 
There are them for the calmest people to the craziest.
Fortunately in the world of fashion, there are options for everyone and we are free to wear what we like.
But whatever our style, we want to look good and be noticed everywhere we go.
Regardless of the variety of options on the market, it is vital to combine the accessories with the outfit. 
If we don't, we would be out of place at first glance and look pathetic.
Here are some tips to consider when choosing each of the following accessories: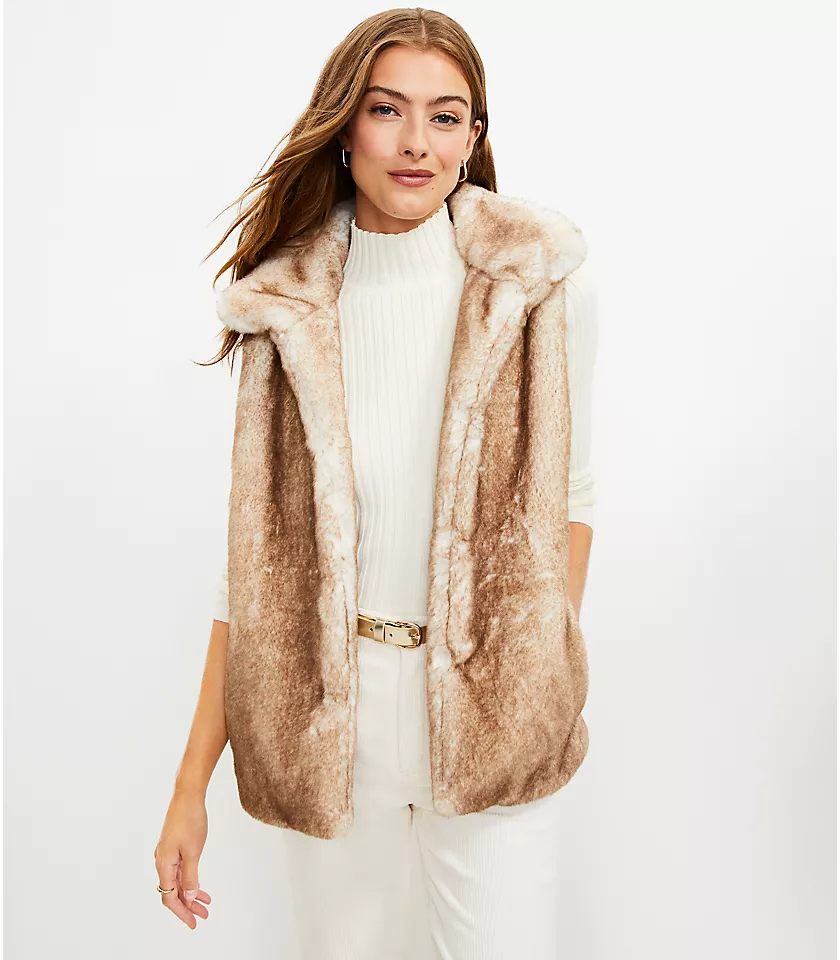 Bags. The size is important. If you are wearing a long vest, it is best to bring a small bag to contrast with the length of the vest. If the vest is long and the bag is large, the whole outfit will look exaggerated.
Shoes. You can't layer sports shoes with a long sleeveless vest. Just imagining it is scary. In general, the vests go very well with closed shoes and if they are classic much better.
Scarves. A scarf with an open vest is a classic. You cannot miss scarves in your closet to complement your outfits. Try to have a variety of colours and patterns so you always have options to match.
Lenses. A faux fur vest and sunglasses for an event during the day will make you look impressive. The big sunglasses look great.
Anything else to consider before you style a faux fur vest?
Yes. Pay attention to the size. Here I explain to you a little more.
Why is the size of your faux fur vest important?
The size is essential when buying any item of clothing. 
And a faux fur vest is not an exception.
If you buy a vest that is not your size, it will end up stored in your closet for years. 
A size too large will make you look like the vest was borrowed and a size small will make you look tight.
When you will buy a vest from an online store, the stores usually have the measurements of the vests they sell. 
What you should do is take your measurements and compare them with the store's reference measurements.
If you have doubts about which is your correct size, you can contact the store directly. 
They will help you choose the right vest for you according to your measurements.
When you go to choose your vest, always remember to choose synthetic fur instead of real fur. 
Remember that to make real fur garments they have to sacrifice many animals. 
Let's NOT support this cruelty anymore.
Think as Dominique Swain does:
WEAR A Faux Fur Vest IN STYLE
You already know the tricks to wear a faux fur vest and look amazing. 
You are free to choose the colours and designs so dare to play with your imagination. 
Always remember to play with the accessories to add a special touch to your outfit.