Faux Fur Vests are among the most versatile garments you can wear to bring elegance and style to all your outfits.
Although most styles go in and out of trends each year, faux fur fashion seems to stay timeless throughout. What better reason to invest in a garment you know won't go out of fashion anytime soon?
Faux fur coats are not only highly sought-after fashion statements (as we've seen at the Met Gala) but a way to stick it to animal cruelty. The best artificial fur provides the same level of quality, comfort, and luxury as real fur without the guilt.
For the ultimate guide on how you can wear a faux fur vest in 2023 to just about any occasion read further.
Why Wear Faux Fur Vest in 2023?
The last two years have brought many changes – some good and some bad. But you can rest assured that fake fur vests are still here and not showing any decline in popularity. The garment is seeing an increasing spike in demand, and it is easy to create a style that is relevant and on point with the latest fashion trends.
You can effortlessly wear your faux fur coat to just about any occasion. Whether going for a coffee with a friend or going to an awards ceremony, you can strut your stuff with confidence. If you are feeling extra bold, a leopard print is always a show-stopper.
Faux fur fits in with almost any other garment or color scheme and will give you the perfect chance to showcase your new investment with pride. With so much focus on sustainability, faux is the way to go.
The best faux fur vest OUTFIT IDEAS for 2023
By 2023 everyone's favorite word is diversity, women and fashionistas want garments with colors, styles, details, and accessories that can bring joy to the eye and that will make those who see it fall in love. 
Learn about the new trends for 2023 and start renovating your closet so that you are ready and fashionable to shine every time you go out. 
Plush faux fur vests
For the fall and winter seasons, faux fur vests with abundant fur have become one of the favorite pieces of many women when it comes to bundling up and protecting themselves from the cold while looking great. 
Designs with abundant coats have been moving more and more away from a childish look to become an eccentric and daring option. 
Short sleeveless faux fur vests
Perfect for both spring, autumn, and winter, they are versatile, comfortable, and go with everything. 
You can wear them and combine them with the garments that are most used: jeans, skirts, and dresses. 
Because it´s small (short) it´s light in weight and you can take it with you on any informal day and thus have it on hand in case any appointment or special event arises suddenly.
These short sleeveless faux fur vests go very well with long sleeve shirts and long sleeve sweaters, you can play with your imagination and create appropriate outfits according to your convenience and preference. 
Long faux fur vests with belt
For those occasions in which it´s necessary to look a little more formal, elongated faux fur vests will always be your first option to wear and combine with the rest of your clothes. 
This time, a belt as an additional accessory to your vest will make you stand out and vibrate before others, you can play with the thickness of the belt, the models and colors available to find the one that best suits the vest you want to use and the rest of your outfit. 
Faux fur vests with animal prints
Years will pass, designers will create new models but women will always continue to love animal print in many of the garments and clothing accessories, and of course, the faux fur vests cannot be left behind. 
Eccentric women who want to look different and make the rest talk are the main fans of this type of skin. 
Another aspect that favors the use of an animal print is the fact that it combines with everything and that it can be used for any event. 
From young people to elderly women they love this type of skin and a vest of this type cannot be missing in their closet.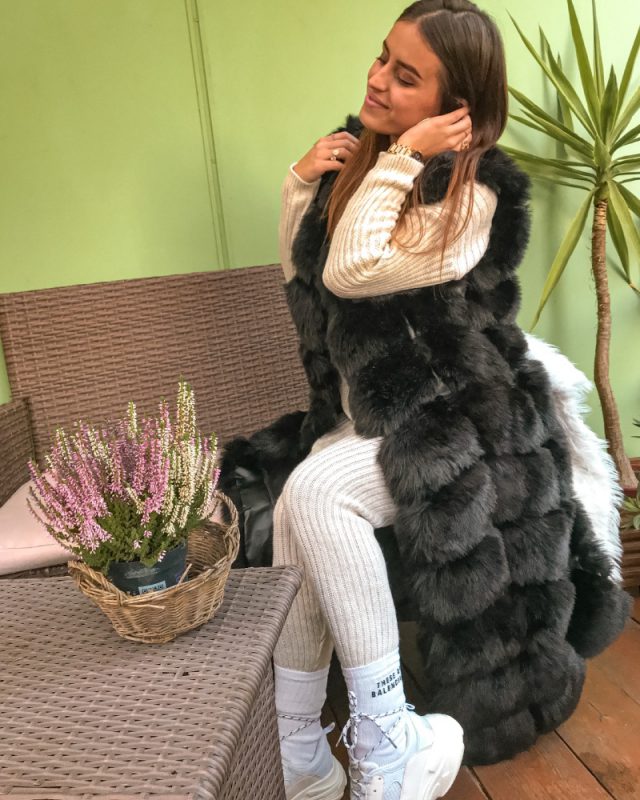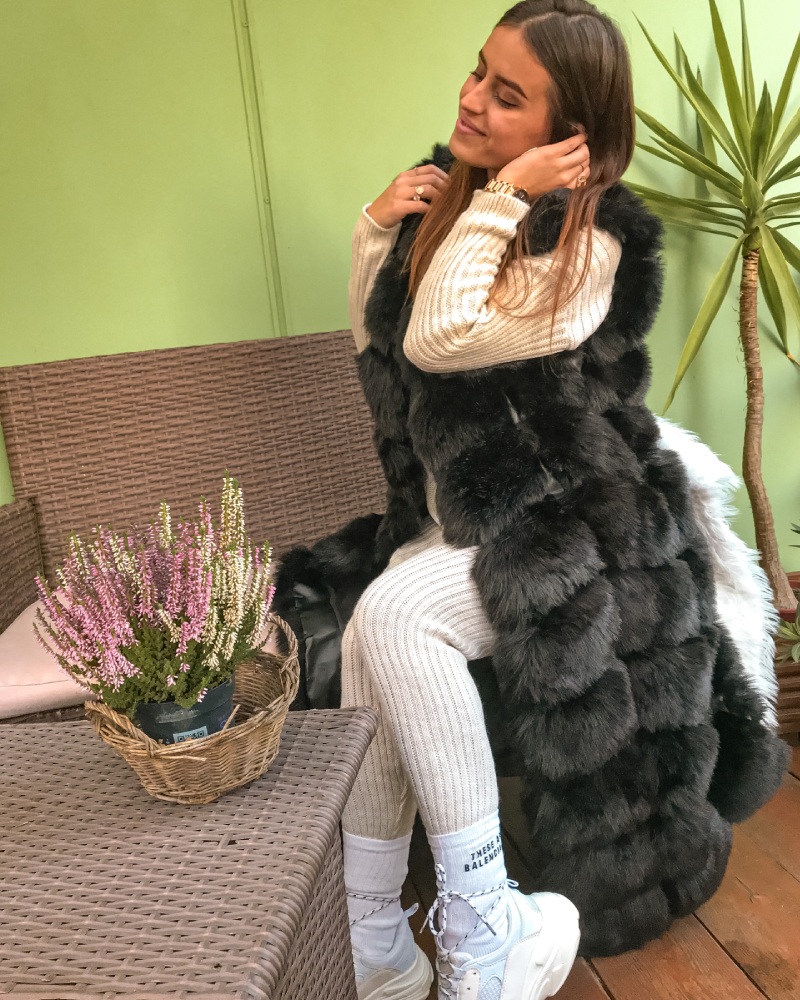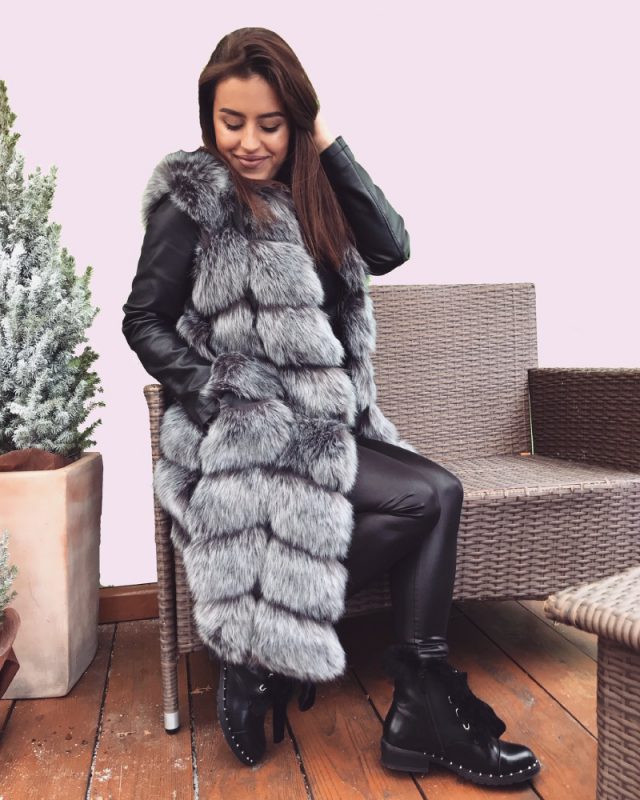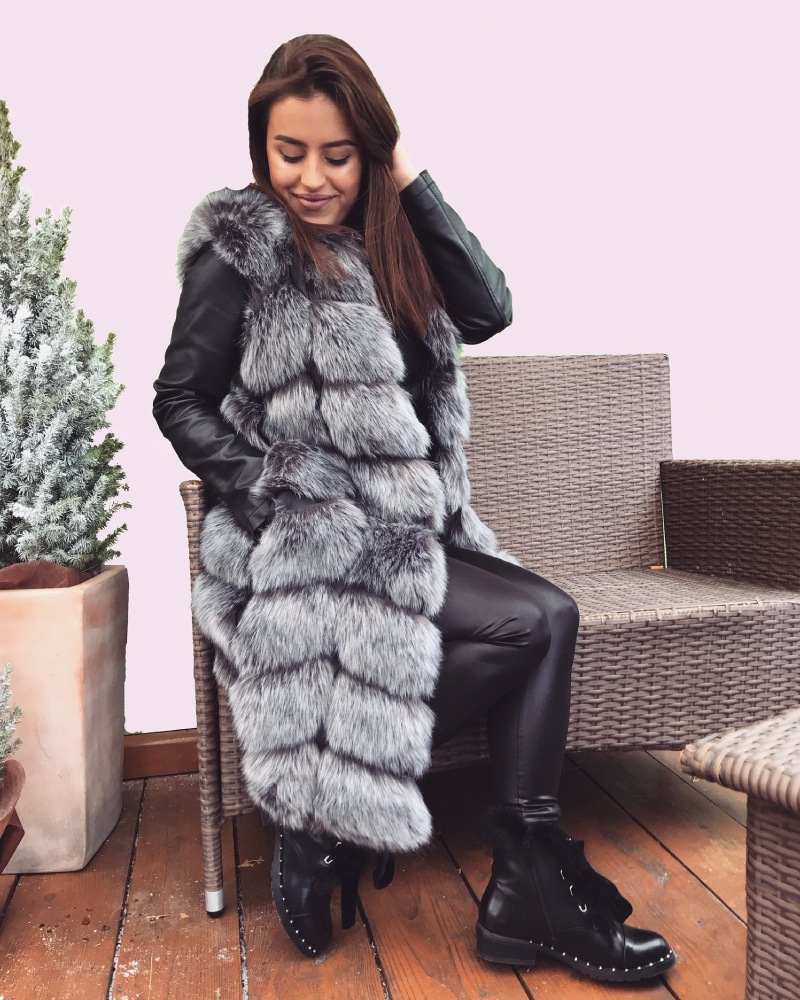 How to Wear Faux Fur Vest OUTFITS
From casual skinny jeans to luxurious cocktail dresses, a faux fur jacket is still a relevant accessory to suit any outfit. Here we will outline some of the trending styles at the moment
The ''Almost Famous" Look – Fur vests have always been prominent throughout pop culture. Looking back to the 70s nobody rocked peace, love, and fur vests as good as Penny Lane. By combining a light-coloured faux fur vest with a short brown dress, paired with shades and brown boots you won't even need flowers in your hair. Feel elegant, at peace, comfortable, and ready to rock with this trending look in 2023.
Elegant Black – All-black outfits have forever been timeless. If you want to keep things elegant and serious, a black fur vest should be your go-to look. From the most well-known influencers and celebrities to professional businesswomen, they all rock black fur at some point. Combine it with black high heels or suede boots, a black handbag, and a short black dress, and you are ready to go.
Casual Summer – There's no reason why your favorite faux fur piece shouldn't see any action after winter. Like artificial fur, denim is another extremely versatile garment. Combine light denim with a pale pink faux fur vest, a t-shirt, booties or heels, and silver jewelry for a look that is right on trend with 2023.
The New Yorker – The busy city life requires stylish yet simple clothing combinations – classy meets practical. Many trending looks in 2023 have been incorporating neutral colors such as white, black, and brown with faux fur pieces. Pair it with a neutral long dress with light faux fur trim, slip-on sneakers, and an oversized handbag in a contrasting color.
Colorful – There's no reason to ignore your inner peacock just because most faux leather styles are used with natural colors.
These usual neutral colors pair well and can easily be combined with colorful patterns for a more playful look. Whether you want to wear a flowery dress or skirt, you can easily combine your faux fur vest with most outfits. This is a trending casual outfit that will still turn heads.
The Best Time to Wear Your Faux Fur COAT
Any time is a great time to don your new investment! don't want a cold winter day.
2023 is a great time to explore different outfits and styles. 
With so many influential figures spotted sporting faux fur vests you can easily see what is trending. 
This can help you spice up any existing outfit combinations or even create new combinations.
With My Fur Vest, there are endless possibilities for finding the perfect faux fur vest for any style that is currently trending.