In this blog, we will show you amazing fur vest styles for women that you are going to love.
Like all flirtatious and daring women, you want to always look radiant. May all eyes be on you and speak wonders of your outfit.
This is the dream of many women but it is also a challenge.
For you who are a lover of good clothing and a lover of fur vests, today you will learn amazing styles with us.
Keep reading and choose the one you like the most.
Top 10 amazing ideas for fur vest to wear
A vest made of light blue faux fur and brown leather
In my opinion, this option is classic. It should not be missing from your wardrobe.
The combination of brown and light blue is charming, it reflects subtlety and glamour. The skins with this combination are in trend, that's why it is one of my favourites.
A light blue faux fur vest with brown can be combined in many ways. It looks good with jeans and denim shoes and a nice strap that stands out.
If you are a little more daring you can also wear it in a short dress. Try to make the vest stand out and the colour's dress goes a little unnoticed to draw attention to your legs.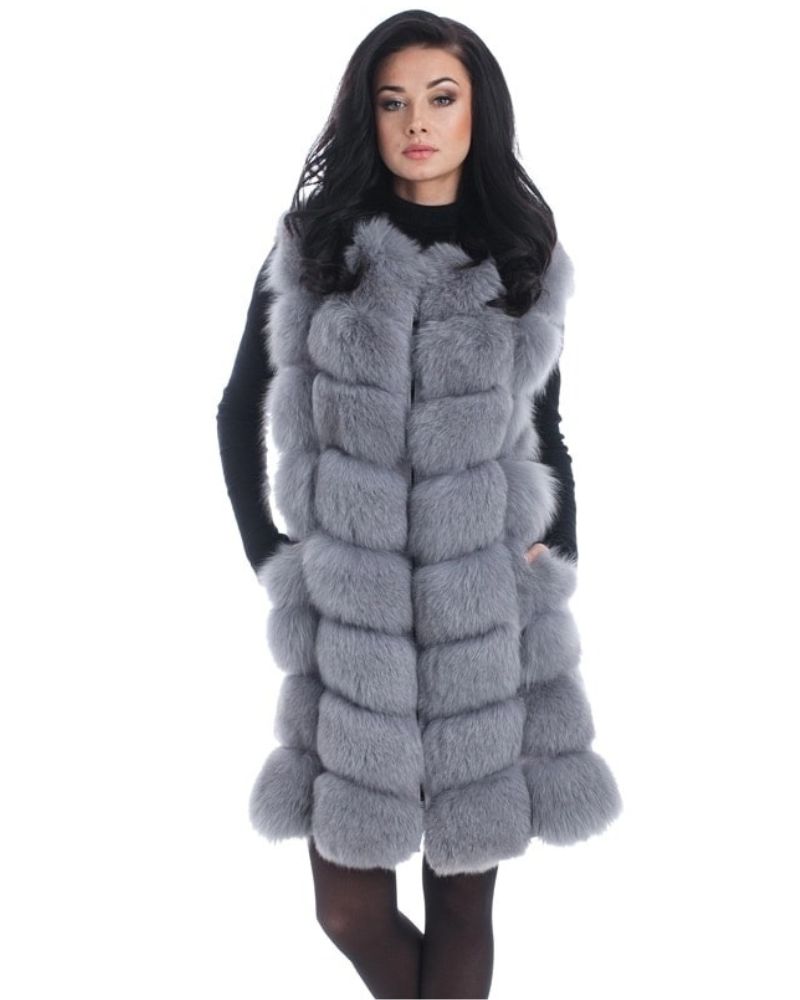 Pair a black mini leather skirt with a white quilted faux fur vest
If the outing is at night, I have a classic but chic option for you. Miniskirts will never go out of style and much less the colour black.
Teaming a black leather mini skirt with a quilted faux fur vest in white will make you look like the star of the night.
The colour of the blouse should stand out between the black colour and the white colour. You can choose the colour of the blouse that best suits your personality.
I particularly love faux fur for a party night, which is why I support Karl Lagerfeld's expression:
White Mini Shift Dress with Long Sleeves and Red Faux Fur Vest
For the most daring girls, I have this charming and wild option. The dresses are and will be one of our favourites and what better than combining them with a vest?
A white Mini Shift Dress with Long Sleeves will make your legs stand out. This outfit is perfect for those long-legged girls who love to look like divas.
The red faux leather vest will make you look sensual and daring. Use this outfit for a romantic dinner. You'll look great.
High-heeled shoes in black, white, or red look great with this combination.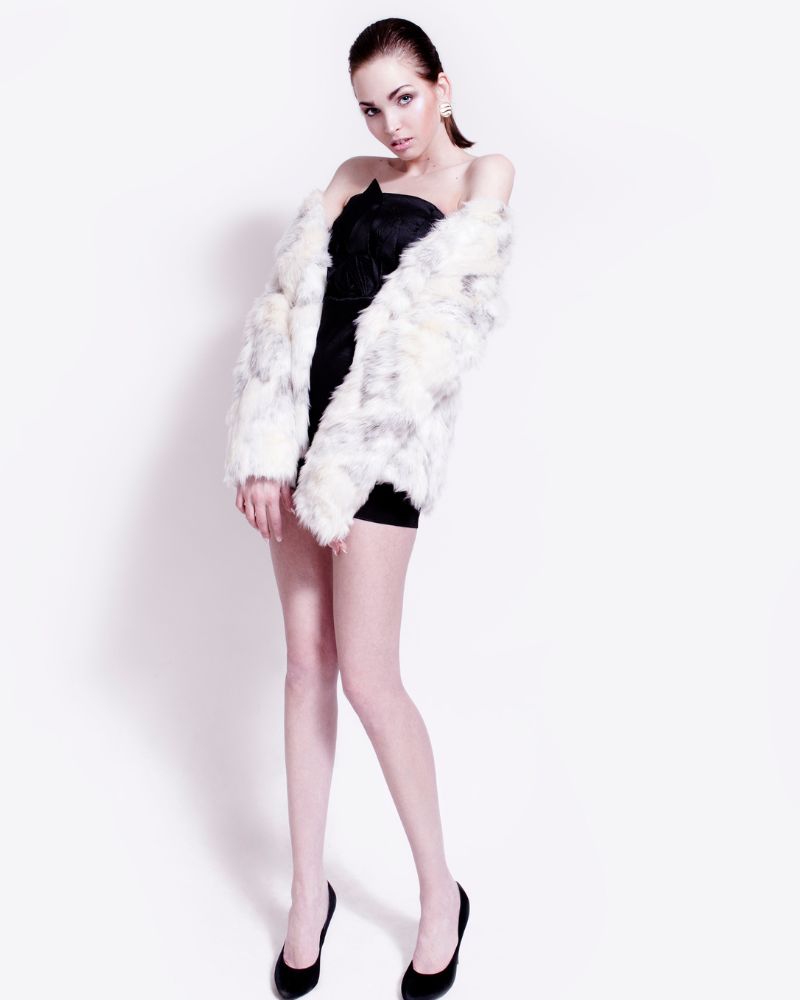 Orange faux fur vest with a black bodycon little dress
Do you like vibrant and exotic colours?
If you are one of the girls who like to stand out wherever you go, the orange colour is surely one of your favourites.
A black tight dress is classic and cannot be missing from your wardrobe. Combine it with an orange synthetic leather vest and give colour to your outfit.
This option is perfect for a casual night out. It goes down very well for a fun night full of adventures.
Black leather leggings and a light brown chambray shirt with a white faux fur vest
Black leather leggings are the favourite of many women. And with all the reason of the world. They enhance the female silhouette spectacularly.
Combine your black leather leggings with a light brown chambray shirt, you will look great. Put on a white vest and you will be ready for any surprise outing.
Add to this outfit the following accessories:
Black-heeled shoes.
Black handbag.
Dark sunglasses if you go out during
the day with your hair down.
If your outing is at night, make up your lips red and pick up your hair.
Grey turtleneck form-fitting sweater and light brown vest
Extravagant combinations loaded with colour are not your thing?
I understand you. A formal and conservative combination is a grey turtleneck sweater that is fitted to the body with classic pants.
You can use this sweater with the option of your choice. It can be classic jeans or black dress pants.
And to add elegance to your outfit, wear a light brown vest. You will look conservative but elegant and feminine at the same time.
Light brown long-sleeve shirt, grey faux fur vest, and matching scarf
Do you like scarves?
They are a perfect accessory that adds colour and personality to any outfit.
If you have a formal date but want to look charismatic, you can wear a light brown long-sleeve shirt with a grey faux fur vest.
Add a scarf that matches the colours and your personality to make you stand out. This combination also goes very well for a day at the office.
White button-up shirt, black vest, and brown high-rise pants
The perfect option for executives with little time to get ready but who must always look elegant and impeccable.
Do you have little time to get ready to go out? Don't think about it too much. The white buttoned shirt with high-rise brown pants is your option.
But you can't leave without your vest. This combination goes great with a classic black vest.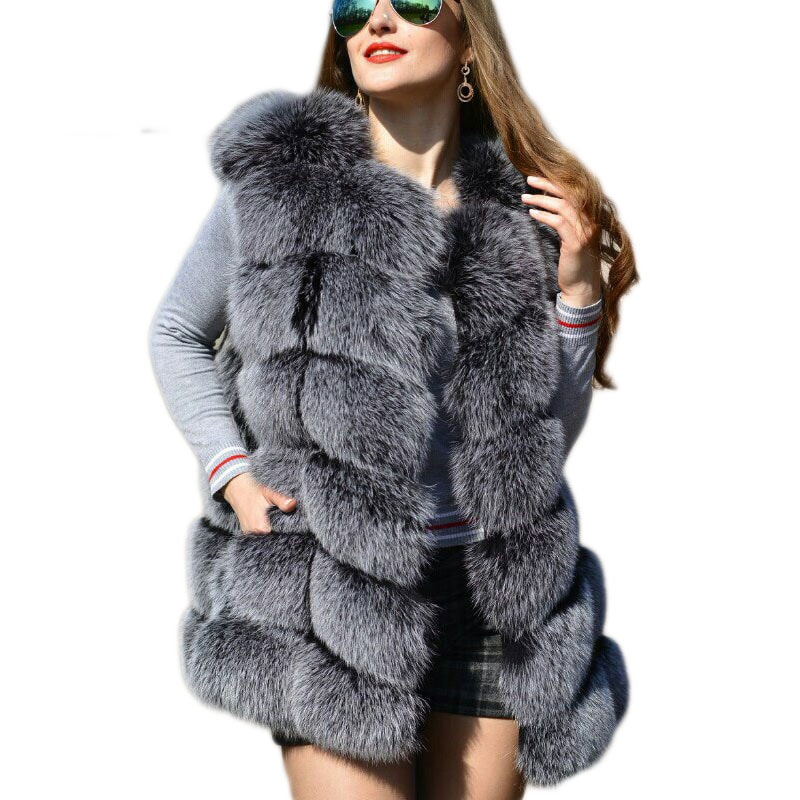 Brown flared jeans with a navy purse with a grey vest
Brown and navy blue are a fabulous combination. For a daytime outing, it is a classic that will never fail you.
Look in your closet for that brown flared pants that you like so much and combine it with the shirt of your choice. Don't forget your navy blue purse.
But don't you feel that something is missing from this outfit?
Well, of course, a vest. The grey colour goes very well with the brown of your pants and the navy blue of your purse.
But, choose a synthetic vest, please. Stop supporting animal abuse.
In my case, I love animals, and that's why for me the fur vest options will always be synthetic. I support Natalie Imbruglia's comment:
With these 10 fur vest styles you have enough options to choose from. There is a style for every personality. Do not forget to choose synthetic options. Think how many animals must be slaughtered to create a real fur vest. By considering this, you will end up buying synthetic options and rejecting animal abuse.